4 Channel Voice Recorder - Telphone Voice Loggers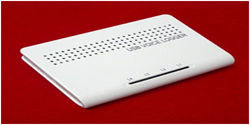 Main Features :
1. Supports windows2000/NT/XP/2003/Vista/WIN732/64 version.
2. Can monitor the channel on conversation without any disturbance to the line.
3. Can set 4 disk at most, which is hard disk or subarea .When the system operation disk is full, system will delete the old file automatically. So that the system can operate circularly automatically.
4. According to the customers need it can back up some important information through this function automatically.
5. Advanced call management function-Can list print and statistical all incoming and outgoing call number.
6. The system has the integrity operation log it can record all of the system operation.
7. It can upload the recording file to Server by FTP upload function so that you can listen the recording even if you go on errands
For Further Enquiry :
Call to Us : +91-11-27144058, 27144059
Mail to Us : sales@star.in
Follow Us :

308
308, 412,
616, 824, 832
309, 412,
616, 824, 832,
12/4/32, 12/4/48,
12/4/64
72, 120, 248,
504 Ports